Submitted by: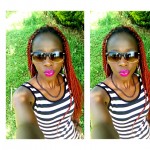 Wairimu Njogu
Twitter: @its_nimmo
Eeh currently you are awesome enough hujapewa nickname.
Reminds me of my Bishop Gatimu high school trs.
Lol there is this female teacher alikuwa na beard and she used to wear those big round glasses..used to call her "Goatie"..like that goat ilikuwa kwa storybooks the one that used to read kama imevaa glasses
aki God forgive us
Another one tulikuwa tunaita Hockey Stick mabones she was effin skinny…
Mwingine Breathless .she could speak bila kustop.
Mwingine Omno, short for Omnipresent…that teacher ukienda DH yuko..ukienda loo ako hizo sides..ukiwa prep mmeongea vile mnataka uangalie kwa dirisha ndiye huyo anawaangalia tu.
THE END
—————————-
LOL! Thank you Wairimu for confirming that I'm too cool for a nickname! I'm that hot teacher kids love to call on first name basis! Hehehehe!
xx
Love. Live. Learn.
Mwalimu Rachel
#MRX